Wound Care Specialist Q&A
If you have a wound, get it treated today! Call our team of professionals today at Sunset Hills Family Practice in Henderson, NV or visit us online to book an appointment.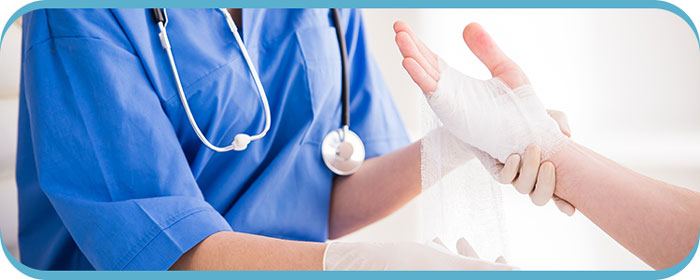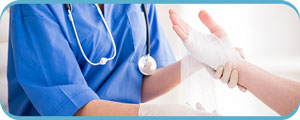 Table of Content:
Does urgent care treat chronic wounds?
What does a wound care clinic do?
How can you tell if your wound is infected?
Does urgent care treat chronic wounds?

Many patients find themselves needing healthcare that is more frequent or sudden than their primary health care provider can meet, though visits to the emergency room are costly and can take up a lot of time. Urgent care clinics have been revolutionary in bridging the gap between primary care and emergent care. These exceptional health centers provide a broad array of services, including wound care.
What does a wound care clinic do?

A wound care clinic is a highly specialized health care facility that focuses its services on the treatment and management of wounds. These health centers can provide care to all types of wounds, though ulcerative conditions are frequently treated here. Usually, you would be referred to a wound care clinic if you are experiencing frequent wounds or have a wound that will not heal correctly.

In addition to ulcers, this clinic will treat pressure or bedsores, radiation sores, surgical wounds, and more. In a wound care clinic, you will see a medical staff consisting of physicians with special training and certificates in wound care, along with years of experience in the field. Further, there will be wound care nurses who are also extensively trained in wound care and management. These health care professionals will collaborate with primary care physicians to help manage disorders, diseases, and conditions that have caused or will lead to wounds. Diabetes is known to result in ulcers of the feet, though other conditions that can cause wounds include nerve damage, poor circulation, an infection of the bone, and a weakened immune system.

Further, many risk factors will be assessed, and your health care team will assist you in management. These risk factors are poor nutrition, smoking, excessive alcohol consumption, a sedentary lifestyle, and obesity. A physical or occupational therapist may also be involved in your care plan if your wound has impaired certain functions, mainly if you cannot perform activities for daily living (ADL), such as walking, feeding yourself, and maintaining personal hygiene. You and your healthcare team will outline patient care goals, which is a wound care clinic usually consist of the prevention of new wounds, infections, limb loss, and immobilization.
How can you tell if your wound is infected?

There are many signs and symptoms to be attentive to that indicate a wound has become infected. Usually, the first sign of an infection is a fever. Generally, a fever is considered a temperature over 100.4 degrees Fahrenheit (F). Your fever may spike up to 102 F, though you should seek medical treatment if it is unwavered by over-the-counter medications.

If you ever measure a fever over 103, seek emergency medical care. Chills are another symptom associated with infection caused by an alteration in the body's temperature set point. If this raises, your body will cause muscle contraction as shaking, as movement accelerates heat production. Another sign of infection is pus and discharge.

This occurs due to the immune system attempting to fight the infection. White blood cells (WBC) will attack the infected cells in mass amounts, leading to an accumulation of dead tissue and cells, known as pus. Pus and discharge may be white and odorless, while other times, it can appear green or yellow and smell foul. If a wound is infected, the surrounding redness may grow in size, and red streaks may extend outwards from the wound.

Finally, if you are experiencing aches, nausea, vomiting, or increased pain, you may have an infection. It is best to see a doctor if you experience these symptoms with a wound.

Here at Sunset Hills Family Practice, we provide a wide range of services focusing on primary care and family medicine. We offer a comprehensive approach to medical care and can test for, diagnose, and treat most conditions.

So, if you have a wound that requires medical attention or are dealing with chronic wounds, Sunset Hills can help. Please, do not hesitate to contact our office to be seen as soon as possible.

Appointments can be made online or over the phone; we also offer medical care through telehealth communications, ensuring our services' availability, accessibility, and affordability. We look forward to hearing from you and helping you heal. We serve patients from Henderson NV, Midway NV, Gibson Springs NV, Paradise Hills NV, and Winchester NV.